Money had been evolving with technology, and that evolution got itself a boost when bitcoin was introduced a few years ago. Bitcoin is called an electronic cryptocurrency that is decentralized. It is the online counterpart of physical money and is increasingly being used for nearly all kinds of transactions due to the benefits it offers.
Seed banks are among the establishments who heavily use bitcoin to accept payments from their clients. In this article, we talk about the 5 seed banks that accept bitcoin.
Seed Banks That Accept Bitcoin
The Seedsman is a UK-based seed bank that sells cannabis seeds and their accessories. They have been in business since 2002 and offer the largest selection of strains on the market.
The Seedsman accepts bitcoin as payment for their products, which allows customers to get a discount when they use this method. This makes them one of the few seed banks that accept bitcoin payments.
ILGM Seed Bank is a seed bank based in the Netherlands. ILGM accepts bitcoin as payment and has a wide variety of seeds to choose from. They also have a good reputation, which can be important when choosing a seed bank to work with.
ILGM also offers 10 free seeds and free shipping to the United States.
Crop King Seeds
Crop King Seeds is a Canadian seed bank that has been in business since 2005.
They offer over 500 different strains of feminized, autoflowering and medical marijuana seeds.
Crop King Seeds accepts bitcoin as payment, so you can purchase your favorite strain without having to leave the house!
Sun West Genetics
Sun West Genetics is a Canadian-based seed bank that offers free shipping on all orders over 200 USD and accepts Bitcoin. They have a very large selection of seeds, including autoflowering strains, high-CBD strains, and classic hybrids. With Sun West Genetics you can order seeds online with Bitcoin and have them delivered to your door fast!
MSNL Seed Bank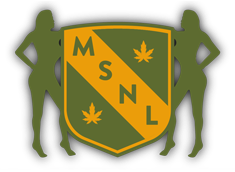 MSNL Seed Bank accepts bitcoin as a form of payment and is one of the most reputable seed banks in the world. The MSNL Seed Bank has an excellent selection of seeds for all types of cannabis growers, and it's great to see them accepting bitcoin as a form of payment.
Bitcoin in a Nutshell
Bitcoin is an Internet-based cryptocurrency. According to CNN, bitcoin was created in 2009 by someone with the alias Satoshi Nakamoto. It was an outstanding novel invention that benefited both customers and merchants. Those who caught on early managed to get extremely rich by mining and trading bitcoin.
Nowadays, bitcoin trading is no longer as lucrative as before (if at all, still). However, bitcoin remains a staple and continues to be widely applied. It is now used to pay for nearly everything: hotels, clothes, games, services, and other products, both legal and otherwise.
Getting Started with Bitcoin
Create a Digital Wallet
The first thing you need to do to get started with bitcoin is to set up a digital wallet or a bitcoin wallet, which is where all your bitcoins will be stored. These wallets are accessible and downloadable via websites. When choosing which wallet to use, research well and look for recommendations from other bitcoin users.
Some bitcoin wallets have been hacked in the past, so make sure to find a highly secure wallet. Then, go to the website of your selected wallet and download their client. You are to use that application to create your bitcoin wallet.
Your digital wallet can be in the cloud or on your computer. This serves as your virtual bank account. However, take note that bitcoin wallets are not insured by the FDIC.
Leading exchanges include Coinbase, Bitstamp, and Bitfinex.
Get Bitcoins
Once your wallet is set up, you have to have the bitcoins themselves, and this can be done in three ways. You can buy some from a so-called "exchange" using your own currency, mine it, or have someone send you a certain amount.
Of the three options, the first one is the most commonly and easily done and the most likely to work well. Asking another person for some bitcoins can be problematic for obvious reasons, whereas mining bitcoins requires the use of complicated calculations and super powerful computer equipment and applications.
Purchase All You Want
Once you are done with the two previous steps, you are free to make purchases and pay using your bitcoins. Each payment is submitted to the corresponding merchant in the form of encrypted information.
The process is exceptionally fast, and the anonymity of your transaction is guaranteed (remember, the payment itself gets encrypted before sending).
Advantages of Paying with Bitcoin
Cost Reduction
One of the most attractive characteristics of paying for your marijuana seeds using bitcoin is that it is such a cheap manner of payment. Unlike other payment methods and channels, paying by bitcoin allow you to avoid extra fees, which other institutions and payment processors use to pay middlemen and are neatly and conveniently labeled transaction fees.
Flexibility
You can pay by bitcoin from anywhere and for anything, provided that the merchant accepts it and you have an Internet connection. Bitcoin payments are easy to make and quickly processed because bitcoins are not linked to any specific country of origin and are hence not restricted by regulations.
Privacy
As mentioned, your identity information, as well as other details attached to the bitcoin payment you are sending to the seed bank, does not get sent together with your payment. This sensitive information also does not show on your statement anywhere.
Your statement will only say that you bought bitcoin, but it stops there. Nobody will have any idea what you bought.
Efficiency
Provided that you have a reliable, uninterrupted Internet connection, your bitcoin payment should go through nearly instantaneously. Gone are the days of waiting for hours or days for charges to show as pending on your credit card account, among others.
Incentives
Seed banks consider bitcoin to be the most secure form of payment. As a result, seed banks offer incentives for clients who pay using bitcoin. These promos can come in the form of website credits, free seeds, discounts, and other specials.
Disadvantages of Paying with Bitcoin
Possible Hacking
Everything can be hacked nowadays, and the popularity and lucrative nature of bitcoin have made it a hot target among criminals. Sadly, some of the attempts of these people have succeeded. As previously mentioned, some bitcoin wallets have already been hacked.
However, this flaw is not directly attributed to bitcoin itself but to the guys maintaining the numerous wallets available today. This is why you have to be extra careful who you trust with your cash.
Take Bitfinex for example. This is an exchange that continues to be widely used even today. However, it was hacked just in 2016. Millions of dollars were stolen by hackers.
No Protection against Shady Merchants
The privacy offered by bitcoin ends when your payment is sent. Unfortunately, paying for your cannabis seeds using bitcoin does not protect you against merchants or seed banks with ill intentions.
For example, a merchant may be collating client bitcoin payments and corresponding addresses for malicious purposes. To avoid this and similar scenarios, choose your seed bank carefully. Pick reputable companies who have been around for a long time and have unsullied track records.
Conclusion, Seed Banks That Accept Bitcoin
Bitcoin has been revolutionizing the e-commerce industry for the past few years due to its sheer efficiency and security. These two characteristics make bitcoin the perfect payment option when buying marijuana seeds online. Governments are now relatively more open to marijuana, but certain precautions still have to be observed by buyers. Bitcoin is safe, reliable, and untraceable and thus addresses all of your concerns as a buyer of cannabis seeds.